Dining at Bar El Almendro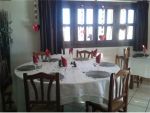 Here at "El Almendro" we are able to offer indoor and outdoor dining (weather permitting) either in our pleasantly decorated bar or shaded terraces to the front and side of the bar.
We pride ourselves here at "El Almendro" by being able to offer freshly cooked-to-order meals, using only the finest locally sourced ingredients available from local suppliers , thereby promoting a farm to table menu. We also serve locally produced wines and olive oils from the region as well as fine selection of international beers and wines for your enjoyment.
Please note that our motto here at "El Almendro" is we serve fresh, not fast food and at busy times there may be a wait. With this in mind and in order to avoid disappointment, bookings are necessary.